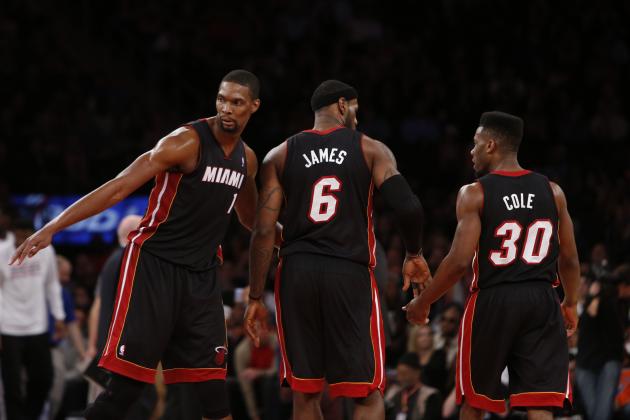 Jason DeCrow/Associated Press
The Miami Heat are not impenetrable. They are not the same juggernaut that, unrestrained from the "ain't won nothing" shackles that dogged their first and second seasons together, blitzed the league to the tune of 66 wins and one of the most memorable NBA championship runs in league history.
As of publication, Miami sits at 34-13 and three games behind rivalIndiana for the top seed in the Eastern Conference. Because of the invisible line in the middle of the United States separating competent basketball from widespread incompetence, the Heat will still be rewarded with the No. 2 seed and have home-court advantage until the Eastern Finals.
Some of these so-called struggles are by design. Dwyane Wade has missed 13 games, almost entirely eschewing back-to-backs and missing other stretches to rest his oft-injured knees. Erik Spoelstra has tinkered with the team's well-documented attacking defensive style, dropping his bigs back inside the three-point line on pick-and-rolls at times. Those changes have helped ingratiate Greg Oden as a regular rotational cog, after more than four years on the sidelines.
Some of the struggles are just attributable to this being a veteran team that knows April, May and June are the only three months on its calendar. This has always been a roster equipped with a proverbial on/off switch.
Some of the struggles, though, speak to deeper and possibly crippling problems come that quarter-year stretch. Miami is 14th in defensive efficiency as of Feb. 4 and is trending backward. Opponents scored107.4 points per 100 possessions against the Heat in January, which would rank just better than Utah's league-worst rate over the course of the season.
Players seem lost in space, lazy in rotations and perpetually unwilling to get back in transition. Miami's rotations, damn near perfect when everything is working in rhythm, have been loose and, at times, baffling. Bigs and wings are miscommunicating switches on the perimeter, and the Heat's style has always been prone to allow an open shot or two. Grantland's Zach Lowe did a nice job of highlighting some of the biggest glaring flaws last month.
The Heat will likely ratchet up the intensity and concentration once the playoffs begin, but some of these mistakes are happening due to roster construction. The Big Three era has been highlighted by veteran role players stepping up, taking less money and performing admirably when placed next to the three stars.
This year, those players haven't performed as well—and the results show. So with only a few weeks remaining before the NBA's trade deadline, Miami is very likely to explore making subtle changes to its bench.
Check back here for the latest rumors from South Beach over the next couple weeks.
All advanced stats are courtesy of NBA.com unless otherwise stated.